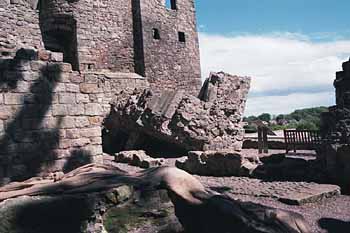 The corner of the old tower, fallen but still in one piece
The area where the gardens used to be is still impressive, with several levels of terracing and a beautiful greenbelt down to the stream that flows nearby. When we arrived, they were in the process of trying to repair bulging retaining walls, which were braced up with wooden scaffolding. The gardens (ok, the erstwhile gardens) were blocked off from visitors, because they were worried that the walls may collapse. From the reconstruction plans, the gardens were beautiful and were complemented by a walled garden beside the nearby 12th century church.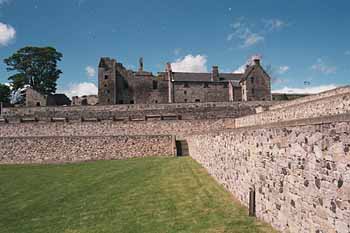 From the lowest terrace of the garden, up to the castle
The well-preserved, beehive-shaped doocot on the grounds was locked, but pushing the door open a bit revealed nesting and pigeon fluff several feet deep on the floor. These doocots were often large enough to hold a thousand pairs of birds. Despite popular thought, the pigeons were not used for messages or simply as pets--they were a staple food for the castle inhabitants. A large doocot could feed a sizeable crowd for the season. In some cases, like at Hailes Castle, the doocot was inside the castle itself.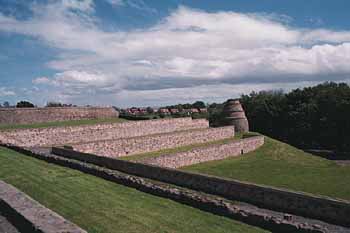 Three levels of terraced gardens and a conical doocot on the grounds