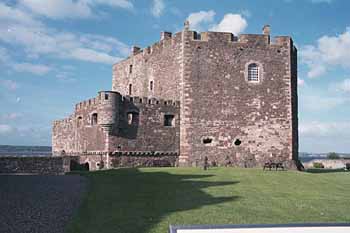 The landward (stern) of the forbidding, ship-like castle, from the grounds

The stark, ship-like bulk of Blackness Castle has served as a royal residence, prison for Covenanters, ordnance depot, military barracks, and youth hostel. It is sited on a rocky outcrop near the mouth of the Firth of Forth. The tower stands inside a ship-shaped curtain wall of 16th century construction. There is another tower at the landward end, and a rectangular tower bastion in the "bow". The castle resembles nothing more than a large battleship ready to sail out to sea.
Blackness was built in the 1440s by Sir George Crichton. He was governor of Stirling Castle when lord Douglas was murdered there by James II in 1452. In 1453, Sir Crichton handed over Blackness to the king. Seemed a prudent thing to do!
The castle was an important part of Linlithgow. It was first mentioned as a prison in 1449, but the lands were owned by the Viponts since 1200. The castle was burned by an English fleet in 1481, and was the meeting place in 1488 between James II and the rebel nobles.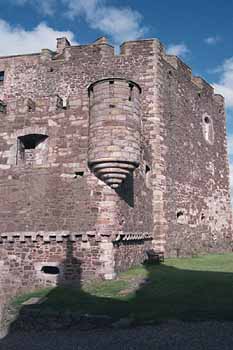 A small watchtower on the wall, overlooking the water gate
The castle was captured in 1654 and it remained continually garrisoned until the 18th century. It was an ammo depot from 1870 until 1926, when it was opened to the public. A barracks block was built on the south side of the forecourt, and officers housing on the east. The long pier and drawbridge from the main gate were built to assist loading ammunition from the stores.
Blackness was restored to its present condition between 1926 and 1935.
The main entrance has a yett (iron gate) from 1693 which is still locked and unlocked by a huge iron key wielded by the castle keeper. It leads into the courtyard. The drawbridge actually works, the first time we'd seen that.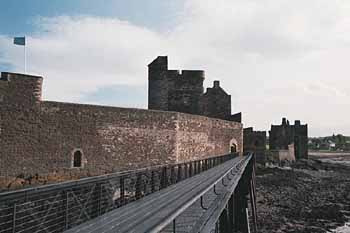 The military built this long pier to assist in loading ammunition for storage
The courtyard wall was originally only about 4m high and 1.2m thick, but was reinforced to withstand cannon fire during later years. The north wall has an original postern gate, and a sea gate added in 1870. The original main gate was closed off when James V added to the castle in 1537.