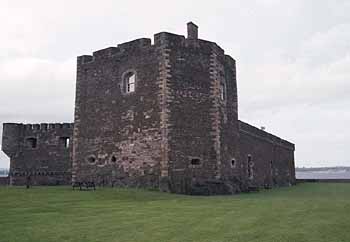 Another view of the bleak inner wall of the castle
The landward tower is probably the original site of the main hall, but the current building is dated from 1540. The sea tower served as an artillery platform, a secondary prison, and had a hatch giving access to the pit prison -- which was open to the sea at high tide. While most castles contain a pit prison, this one has a truly unique extra feature: at high tide, the water from the sea rushes in through a grate near the floor and fills the bottom of the pit with freezing water.
The prison -- not the pit prison, but fairly comfortable rooms in the tower -- housed Cardinal Beaton in 1543, and the Earl of Angus in 1544. The pit prison was for lowborn criminals, while the rest of the castle housed nobles and other dignitaries who were being held, often for political reasons, awaiting dispensation. Each prison chamber had it's own fireplace and latrine chute.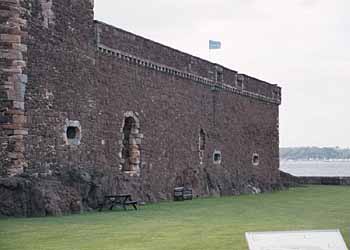 Only a few shotholes pierce the walls for defense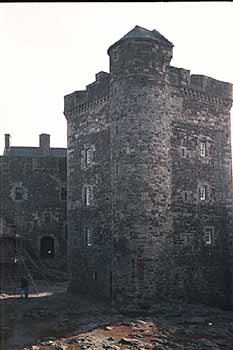 The turretted inner tower, used as a prison and ammunition depot
The inner tower was used as a comfortable prison for nobles, each floor having a suite of rooms available. The only difference between this prison tower and other tower houses were the heavy iron doors on each floor, accessed from the thin stair tower. Most of the floors in the tower are reasonably new (since 1870), when the tower was converted for ammunition storage. The entire interior seems to be well-maintained.