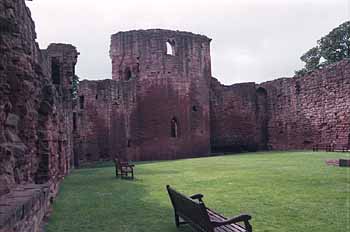 The donjon from the bailey. It is now filled with an interior wall
Bothwell is arguably one of the largest and finest castles in Scotland. It is comprised of a large circular keep, a huge ditch, and a large courtyard. The castle is designed as a pentagonal courtyard with two flanking round towers on the cliff side. Two other towers were planned, but they were not built. Only the single huge tower, faced with fine ashlar stone, was completed in the beginning. When the castle was stormed and taken back from the English in 1299, it was most likely defended by wooden palisade walls, not stone.
The main tower, some 65' in diameter, was built with four floors, with a spiral stair built in the fifteen-foot thickness of the wall on the north east side, and a mural passage at first floor level leading out into the wing wall. This wall led to a cylindrical turret. Foundations have been discovered of parts of a curtain wall, a twin towered gatehouse, and other towers that surround the courtyard enclosure, although nothing remains. It is believed that these other structures were not completed, and may not have risen more than a few feet above the ground. The ditches to the northeast and east suggest the size of the castle, and a ditch was cut into the rock between the two wing walls, as well, for defense.

The uneven back wall, from the large tower
The courtyard is very large, and enclosed by a strong curtain wall, which rises to 60' in some places. Only the foundations of a second large tower, at one corner, survive; a more complete tower includes the corbelled wallhead; the prison tower and wall from the 13th century still remain. Much of the damage to the walls was a result of quarrying for building a nearby mansion and other uses in the village. Quite a few castles are disappearing still because the rock is being used for other purposes, although most of the rampant dismantling has stopped. As recently as the turn of the century, warnings were issued at Urquhart Castle to prevent vandalism.
The keep has a ditch hewn from the rock, 25' wide and 15' deep to protect it. The entrance to the keep is through a pointed doorway that would have been reached from a drawbridge originally. The well lies in the basement.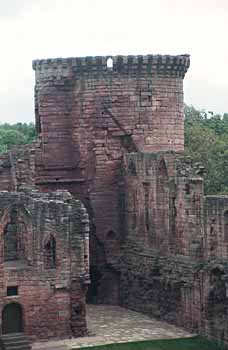 A more complete tower, with corbelled wallhead
Bothwell
1 [ 2 ] 3 4


---

Uddingston
Strathclyde
3 miles NW of Hamilton
West of B7071
½ miles south of Uddingston
Historic Scotland


---

l i n k s


---

Heritage Castles
Edu-web