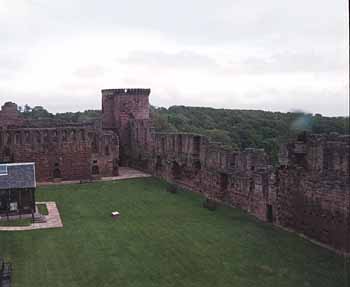 The prison tower from the top of the donjon
There isn't much left inside the castle, mostly just the shell remains. We did climb up to the top of the donjon, or great tower, to look over the rest of the grounds. Things really were this green! The dropoff beyond the curtain wall is pretty spectacular, too.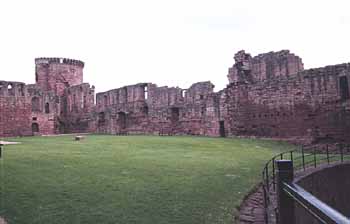 Inside the walls, looking over the bailey. To the right is the donjon
The castle was originally much larger. We had a tendency to think that the castles we visited where fairly small, since not much of them remains. Out in front of Bothwell are the foundation remains of two large gate towers, that would have been linked to the main castle by high walls. It is most likely that these towers were never actually finished, but the foundations of the wall and towers give a good idea of how large Bothwell was intended to be when finished.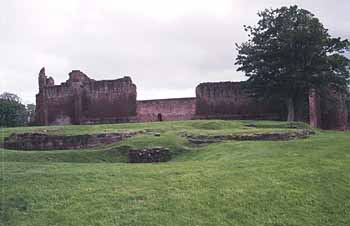 The landward side, where the foundations of the outer walls stood
Bothwell
1 2 [ 3 ] 4


---

Uddingston
Strathclyde
3 miles NW of Hamilton
West of B7071
½ miles south of Uddingston
Historic Scotland


---

l i n k s


---

Heritage Castles
Edu-web