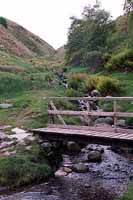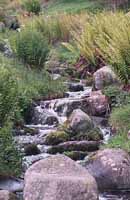 Dollar glen was created by this tiny little stream, the burn of Sorrow, and the Burn of Care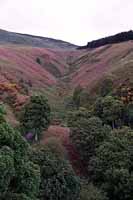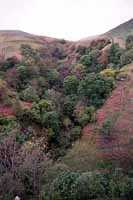 View from the castle up to Gloom Hill and the top of Dollar Glen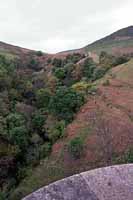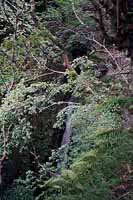 A view into Dollar Glen from the castle parapet, and the little waterfall at the head of the glen.
I loved these pictures below! The truckdriver (obviously not the normal delivery man) tried to run that ungainly truck down a tiny, winding, single-lane walking path. He got about halfway down before it became too narrow to pass and we encountered the driver, looking just a bit frazzled, as he was walking down to see if he could just push on through. We were pretty sure he was not supposed to be driving through there, and luckily the gentleman from tearoom--the one in the kilt--met us at the top of the hill and attempted to help the poor driver back up the steep path. We decided that we'd snap a few pictures and run to our car to get it out of the way when the truck cam barrelling back down the hill!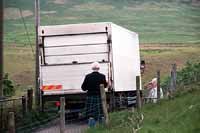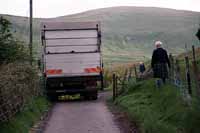 The truck got halfway down to the castle before the road got too narrow. Here he is trying to back up the narrow, winding road.
More Pictures:
Page 1 | 2 | 3 | 4


---

Dollar Glen
½ mile north of Dollar
north of A91
west of Gloom Hill
National Trust


---

l i n k s


---