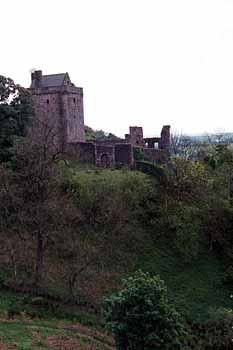 View of the castle from the banks of the Glen
The walk from the lower car park up the glen is often closed due to rock falls. The view from the gardens over the village of Dollar is spectacular. Historic Scotland runs a cozy tearoom in the old castle kitchens, and it was here that we learned quite a bit about castle architecture. The nice gentleman in the tea room explained that most staircases were clockwise because it made it easier for a right-handed swordsman to defend the staircase while he was coming down. The attacker, trying to climb the stairs, was hampered by the narrow end of the stairs. Door were short and narrow, not because people were smaller in those days but because a smaller opening was easier to defend. We had a very interesting conversation with him.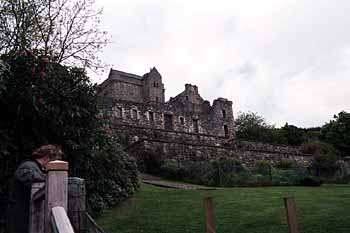 Me, climbing over the fence to get back into the lower gardens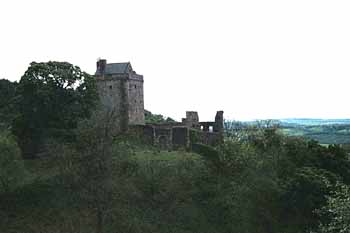 Another view of the castle from Dollar glen
I'm not sure why it is called "Gloom" hill. I wonder if it's a mispronunciation of "Gloam" or somesuch? I can only imagine how the castle would look in that pale, hazy light of sunrise.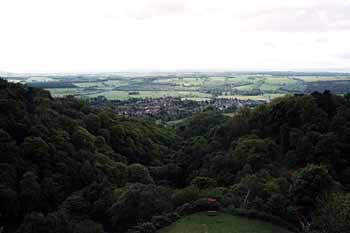 The spectacular view down Dollar glen from the castle, into the little town of Dollar
Campbell
1 [ 2 ] 3 4

---

Dollar Glen
½ mile north of Dollar
north of A91
west of Gloom Hill
National Trust


---

l i n k s


---