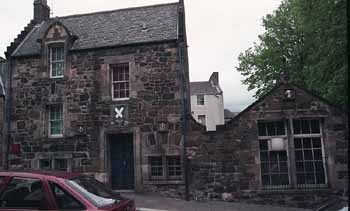 The small Boy's Club building in Stirling, across from the church

The town of Stirling is really interesting, and we spent the morning wandering up the Castle Wynd -- the main road to Stirling Castle. It was a beautiful day, and we saw Argyll's Ludging and the wonderful churches and other buildings.
We stayed in the Stirling Highland Hotel, which is a restored boy's High School a block or so away from the castle. While we stayed in the modern portion of the hotel (and got the last room!) the original gymnasium and pool were still open. We had a chance to walk through Stirling on our way to dinner (at a very nice Italian restaurant). These pictures are from the next morning when we started investigating the town in earnest.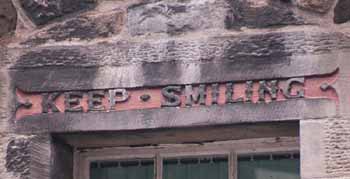 One of the many carved saying on the Boy's Club building
One of the more interesting places on the hill was the Boy's Club, which was a pretty nondescript building -- except for the happy little sayings engraved in the stones over the doors and windows. I thought it looked a bit ominous! Built in 1929, this small building was part of a cluster of buildings and clubs supported by Wm. Erskine.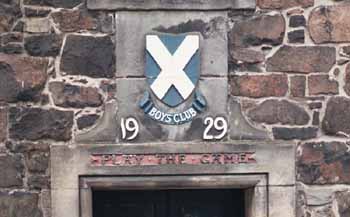 Another, slightly more ominous saying from the Boy's Club
Stirling
[ 1 ] 2 3

---

l o c a t i o n

---

Stirling
Castle Wynd


---

o t h e r l i n k s

---