May 12
Another sunny and perfect day! Are we in Scotland? Or Spain? Everyone assures us that this is a fluke, a strange period of nice weather and that at any moment, it could start to rain and stay like that for weeks. Given the evidence, I think they're making it up. It's been fabulous!
We got up very early this morning and rushed a bit through breakfast, since our car was parked on the street and a permit was required after 7am. I had totally forgotten that "Inverness Castle" is not really a castle -- it's an office building that is built on the site of the original castle and isn't very interesting at all, but we parked in town and walked up nonetheless. It was convenient to our primary destination this morning: Marks and Spencer for COOKIES. We didn't even really look at anything else, just beelined to the bakery and bought a half-dozen packets of chocolate chip cookies, ginger cookies, and a some teeny little chocolate roll cookies that we started eating on the way back to the car!
We walked along the steep and very winding Market Brae (at least 200 stairs up, I swear!) and back to the car. On the way, we saw an inordinate number of hairdressers and salons. Noticeable numbers of them, really - two or three on every street. Perhaps like medieval cities, where everything is segregated into districts this was simply the Inverness Hairdresser district. It was kind of weird. You can't find a restaurant or chemists anywhere, but fourteen salons are within walking distance.
Serious lack of kilts. Hmph.
Inverness is also riddled with tourist-y shops along the main drag in town. Kilt shops, Scottish woolens, whisky, little shops of the kind of tchotchkis you bring home as souvenirs. The kilt shops are worth a stop if you are looking to buy a kilt or kilt accessories. There are a number of well-known kit shops and kilt makers here, which can set you up with the whole kit - tam to lace-up shoes. Belong to a specific clan or sept of a clan? They'll help you find the right pattern. Don't have a drop of Scots blood? Well, there's no rule that says you can't just pick one you like, bit there are non-clan tartans (like the Black Watch) that are "open" to anyone.
Despite the stereotype of kilt-clad Scots, we really didn't see many men wearing kilts, except for the half-dozen wedding parties we saw, and the pipers who occasionally stood at the historic sites. Unfortunately, we aren't in Edinburgh during the time of the Tattoo (that's in September), where the massed pipe bands from all over Scotland compete on the Edinburgh Castle esplanade. We've been to the clan Gathering in Colorado (the largest Scottish festival in the US) to see the pipe competition and the procession of the clans -- it's impressive, even on a smaller scale. But then again, I LIKE bagpipe music. We used to have a guy who practiced the pipes in Erie - he walked out the main road to the highway, and on a still night, we could hear him from miles away.
Historic Scotland built a new visitor's center at Culloden Moor since we were here in 1999. It is absolutely worth the time to walk through the audio-visual exhibits and see the artifacts from the moor itself. The visitor's center does much to challenge the "hero" and mythical stories about "Bonnie Prince Charlie" and the rising. He wasn't a stellar military leader, it wasn't as glamorous as the songs would have us believe. It was tragic. The moor was a horrible spot to plan a battle, and the slaughter that occurred here was appalling. We don't really have any connection to the clans here, but even so, it is a moving, emotional place to visit.
From the moor, we headed off to see a few dots -- without much luck, actually, although we did spy a few teasing glimpses through the trees of Dalcross castle, and confirmed again that Castle Stuart is still private. We never even saw a hint of the castles that the map strongly suggested SHOULD be near Cantraywood or Croy. I'm assuming that the remains of the castle have been entirely absorbed into the houses or barns that we did see on the right roads. Tracking down some of the castles is very hard, so many of the locations that should have a castle, don't - so many ruins here have been incorporated into other buildings. I shouldn't call them ruins in that case, I suppose -- they've been inhabited in one form or another for centuries.
A rare repeat...oops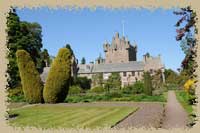 I was reminded that I need to check my notes each morning, when we pulled up to Kilravock Castle before we realized that we had don it before! We had lunch at Cawdor Castle and admired the gardens there. I tracked down one o the gardeners to ask questions and was told that three full time gardeners and one part-time gardener all year are responsible for the carefully laid-out and manicured gardens. Cawdor's gardens are not quite as rigid as some of the other gardens (Edzell Castle), but they are a nice place to spend an hour or so on a sunny day.
One of the oddest things we saw today was Ardclach Bell Tower -- a teeny-weeny stone tower on the top of a huge hill, that was eventually turned into a belfry for the local church. It is a small, two-room building - probably it has been shortened dramatically from its original height. It is an open site, and as we were hiking up the hill, Mark was teasing me about Adventure Girl and how I needed a cape or an Adventure Girdle, which nearly had me falling on my face and peeing myself. Hah. Adventure Girl is not amused. But the views from the top of the hill are rather nice.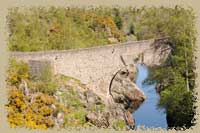 Since it as "on the way", we drove to the Dulsie Bridge - a stone bridge build by General Wade in a very picturesque location. We walked around a bit to see the falls and the bridge and basked in the sunshine again. There were a few people having a picnic lunch near the falls, but they didn't seem interested in talking to us, so we meandered around by ourselves. There are dozens (possibly hundreds) of these simple stone arch bridges in Scotland and you'll probably hear "General Wade" associated with every single one of them. OF course, he isn't responsible for all of them, but the style is common to the military bridges that he built, and General Wade certainly has enough other stuff named after him (military roads, forts, etc) that it has become a bit of a running joke. General Wade made the suggestion that roads and barracks would assist in 'controlling' the highlands, and between 1725 and 1737 he directed the construction of 250 miles of road and 40 bridges (including the Tay Bridge at Aberfeldy). The roads linked the garrisons at Ruthven, Fort George, Fort Augustus, and Fort William
Lochindorb was a bit of a surprise --we drove around the entire loch (which is known for its hunting lodge) and saw the remains of the huge square castle in the middle of the loch. There's not much to see of the castle; the truncated walls of the square wall, topped with grass, are about all that's visible. The drive around the loch was nice, though. I think if we had been staying at the lodge, they had boats to rent to get out to the island.
The Glenlivet Estate and tour
Mark wanted to visit another distillery, so we decided to tour Glenlivet (wait -- THE Glenlivet, as all the signs will tell you and the tour guide will prissily remind you) and just barely snuck in the last tour of the day. We don't really need to go on the tours anymore, we are very clear on the process used to distill whisky, but it is interesting to see the different shapes of the stills and hear the different spiels from each distillery tour. . Each of the distilleries adds something unique to the story. We were mostly impressed by the amount of construction going on at Glenlivet, though - they intend to double the size of the distillery and the storage warehouses. The tastings at the end are the real draw, of course The Glenlivet has a new 'expression', called their 'Natura' range, which is cask strength, but neither of us really liked it much. Just like the Macallan is marketing their Fine Oak line, I think they're aiming the new expressions at the eastern market. Tastes definitely do vary.
To be honest, I was more interested in the mostly-crumbled bridge just outside the Glenlivet estate - the Old Bridge of Livet, also called the Backpacker's Bridge, or the mule bridge. Only two thin stone arches remain of the original bridge, which has 'often been wrongly attributed to the work of General Wade' because of the style. It makes a very pretty picture, and we sat around waiting for the "right" light to get the perfect shadows on the bridge.
It was at this point that I realized that Mark simply CANNOT remember name of the Orkney Islands to save his life. As him where we went, and he gets a panicked look on his face and cannot dredge Orkney from his brain at all. It's rather funny, especially since he is normally brilliant and amazing. And yes, I made a point of asking every now and then, just because I'm mean. After a few times, he is answering with ridiculous names. 'I really liked that Bishop's palace we saw…the one..where was it?"
"Gondwanaland, I think."
He can do it with a straight face, too. Much better than I can!
Despite the fact that it seems like mid afternoon, the sites and towns are in the process of shutting down for the night (remember, 5:30 or 6:00 is The End). We picked the scenic route to drive to our hotel for the night, which Mark approached as a Formula 1 race track --very curvy, very narrow mountain roads that are quite fun when driven as a slalom course. It makes me a bit nervous, being on the wrong side of the car and not having anything else to do but worry about meeting a giant lorry coming the other way and squishing us flat.
Roads are straight OR flat, never both
The highlands are stark and beautiful and harsh. Rolling hills covered with heather and sedge with deep, green glens between them. The distances up here seem even longer, because every road winds around the hills so that a ten mile distance is covered by fifteen miles of road, or more. Every road in Scotland is either wind-ey or hilly, or both. (Well, with the exceptions of the absolutely straight and flat military roads built by our friend General Wade). It's like connecting points ten inches apart with a foot of string, either it has to wobble back and forth or roller coasters up and down. It makes for fun driving, but it takes three times as long to get anywhere. Also, the further up in the Highlands you go, the fewer roads there are in general. We discovered that the bridge we needed to cross to get to the hotel was closed and we had to drive all the way back out for the 'diversion' - there was ONE way to cross the river Dee, just one, within about 20 miles. We had to turn back and drive the other way, which necessitated more Mach-1 driving.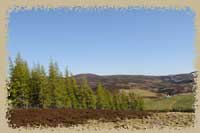 Until we manage to convince the GPS that we really, really weren't going to make a U-turn so it would recalculate our route, I had my head buried in the map, trying to see if there was something else we might see "on the way".
My directions, Mark told me later, sounded a lot like this: "We should reach a major road, a big road in a mile or so..yeah, a bigger road…well, at least one with lines on it, I think. Or maybe not." Our definition of "big road" became "road with lines on it".
And the road signs! There is one sign (that we have dubbed 'surprise in the road') which is just a triangular sign with an exclamation point on it. The euro version of the 'caution' sign, we gathered. We always try to guess what the Surprise is when we see one -- bump! Falling rocks! Herds of Sheep likely!--and were startled when we drove by a Surprise Sign with the addition of 'RED SQUIRRELS'. And a rather deranged looking squirrel it was, too. We couldn't decide if we were to watch out and avoid the stray red squirrels that might dart into the road, or beware of the wily creatures attempting to cause an accident so they can loot our cookie stash. In either case, we didn't see any.
One of the things I didn't expect to see in Scotland was a SKI RESORT. But there it was. We couldn't decide whether to be impressed or a amused. T-bars and everything. The hills are very gentle, I can't imagine that the back slopes are any more challenging. Just my speed, actually - on the few times I have been convinced to go skiing, it's green circles all the way, baby. It does snow here in the highlands -enough to have some pretty serious winter storms, I am told, so skiing is not entirely out of the question, but I'd have thought cross-country was a bit more suited to the terrain.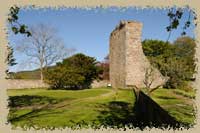 Without any prompting at all, Mark followed signs to Drimnin Castle and we hiked up from the little parking lot to the top of the hill to see the ruin. The castle is on private land, but the landowner has provided a neatly-kept (if very long) path up to the site and a steep stairway back down. The castle overlooks fields and pastures now, but it's high enough up on the hillside that we could easily see for miles in any direction.
Fishing is not really about the fish, I think
We arrived at the Deeside Hotel along with a crowd of people obviously in town for the fishing. Everyone had the same sort of fishing uniform on (short green pants and knee-high socks, army-type sweater.) It was a bit weird to suddenly be surrounded by so much green plaid. All the cars had brackets for those extra-long fly-casting rods. The Dee is a popular trout fishing area at this time of year, we learned while waiting for dinner. Everyone is up at dawn jockeying for the perfect position on the shallow river, it's like a scene out of A River Runs Through It. I'm not entirely sure that the endeavor is really meant to catch any fish--it's a chance to compare lures and all the collectible stuff associated with fishing, to buy spiffy clothes and rods, to stand out in the misty morning perfecting that dainty dab-at-the-water casting technique. No one is bringing home creels full of trout, as far as I can see. They do talk about it a lot, though, in boisterous, rapturous tones about the perfect cast, the perfect weather, the perfect fish. I kept expecting to hear stirring violins and a swelling chorus.
Yes, I laugh a little. But I shouldn't. I'm a 'castler', which puts me in the groups of people who keep lists of birds they see, or spots on the river they fish. One person's object of amusement is another's raison d'être. I shouldn't even be tossing pebbles in their direction, so fragile are the glass walls I'm behind. I'm the one who spent weeks putting dots on the map. Although I do think I retain a bit more dignity than the short fishing-pants have. Maybe.
We had dinner at the hotel (which is listed as a Taste of Scotland establishment). I had roasted scallops and tarragon cream and a steak, Mark had potato and leek soup and venison A nice big French cab to go along with it and we were ready for bed by 9:30. The best part about the hotel? A GIANT bed (two twins made up into a king). After so many nights on a double bed (which is a bit shorter than we're used to), having actual space to spread out is very nice. Mark won't have to sleep diagonally!
I have a hard time getting used to the duvet-only beds, though (which we have found in about half of our B&Bs. No top sheet, just a duvet in a cover. I need to have things tucked in at the bottom of the bed, I don't like the covers just floofing about willy-nilly and clumping up all weirdly. I want to be able to pull them taut and jam my feet down into the bottom of the bed. And, lest you think I'm completely weird, I don't want things tucked in at the sides or anything, just the bottom. Add that to the fact that I am nearly always too warm at night, not having just a sheet to cover up with means that I freeze or roast. I much prefer the bottom sheet, top sheet, blanket model. Mark doesn't care, he can sleep anywhere.